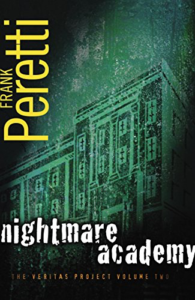 Nightmare Academy
by: Frank Perretti
I loved everything about this book, except for the Kindle formatting. It needs updating. The story, however, didn't disappoint in this second book of The Veritas Project. The Christian twins are once more faced with a dilemma posed by non believers. This time, it's about truth—many levels of it. They're separated from their parents and must rely on their spiritual foundation to survive. They face bullies, deceitful adults and government cover-ups. I highly recommend this book (maybe the paperback version) to older young adults.
Reviewed August 23, 2019
---
The Delusion
by: Laura Gallier
This amazing work of Christian fiction—on par with Frank Peretti's YA nail biters—stretches the imagination while painting a visual of burdened people. Owen Edmonds, a high school senior, receives a supernatural dose of reality after drinking a cup of well water. He now can see the emotional weight people carry and feels compelled to help them. After all, eleven students have already committed suicide. The story moves into an epic battle between angels and demons, leaving the reader with biblical lessons on trusting God, loving others and withholding judgement.
Reviewed July 20, 2019
---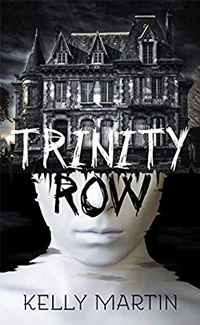 Trinity Row
by: Kelly Martin
The artist who designed the creepy cover did a magnificent job capturing the eeriness inside. Ivy Black initially embraces the whole renovate-the-haunted-house challenge, but the more she spends time within Trinity Row, the more she questions her sanity. Who's alive? Who isn't? Who wants to kill her? Who doesn't? I recommend this book to older teens who can handle the adroit plot twists and violence—who like to read with their hearts in their throats.
Reviewed June 5, 2019
---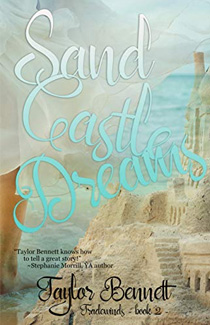 Sandcastle Dreams
by: Taylor Bennett
Life sure is complicated if you're a teen. Layer on a deceased mom, self home-schooling and a rambunctious puppy, and you have one overwhelmed girl. Olive does her best to stay strong for her little sister and for her new bestie, Jazz, but is frustrated at every turn, especially when she learns her friend is hiding a secret. When her other friend, Brander, is offered an opportunity on the other side of the country, she's left with yet another loss. I can't wait for the next book!
Reviewed May 31, 2019
---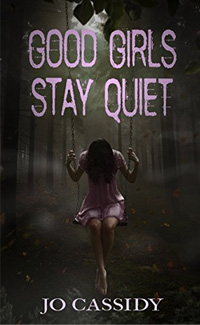 Good Girls Stay Quiet
by: Jo Cassidy
Like so many children around the world, Cora is stuck in an abusive parental relationship that she thinks is normal. I've never been exposed to anyone in that type of situation, but Jo Cassidy made Cora's character so credible that I wanted to jump into the pages and scream, "Help yourself!" I highly recommend it to all young adults.
Reviewed April 5, 2019
---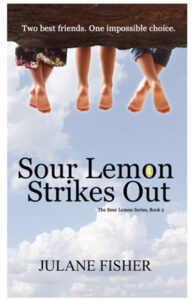 Sour Lemon Strikes Out
by: Julane Fisher
The story continues with the "sour lemon" twin, Lillie Mae, frustrated that her best friend is spending too much time with the new girl in town. Before long, she learns a secret about the new girl. By the end of the book, Lillie Mae has learned more than that secret—she's also learned that loyal friendship and close family relations can conquer any problem. This is a terrific book for middle schoolers with its strong anti-bullying and peer pressure messages.

Reviewed March 28, 2019
---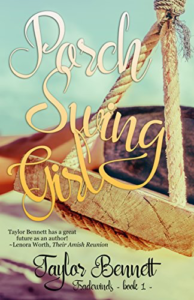 Porch Swing Girl
by: Taylor Bennett
I, like the main character, Olive, was jerked out of my comfort zone and moved to another city halfway through my teens. Olive not only is forced to relocate, but she also has to deal with the grief of losing her mother. She's much braver than I was at that age. She sets out on a mission to earn money to fly home, then turns her fundraising campaign into an endeavor to help a new friend. I highly recommend this Christ-centered book about loss, friendship and the importance of family.
Reviewed June 28, 2018
---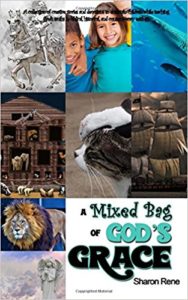 A Mixed Bag of God's Grace
by: Sharon René
This terrific book of middle-school devotions offers short stories featuring kids from Biblical times through current day. Each story is followed by a lesson, scripture and prayer. There's also a section on life in the Middle Ages and during Biblical times. The book ends with background on each story.
My favorite was "Sleeping in the Lion's Den." René did a fabulous job writing from the perspective of a lion in the den where Daniel had been thrown. An imaginative twist on that popular Bible story.
I heard through the grapevine that René is wrapping up a three-book young adult series named "Defying Destiny." Stay tuned…
Reviewed June 22, 2018
---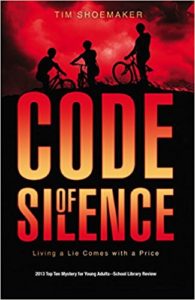 Code of Silence
by: Tim Shoemaker
If you ever have a chance to meet the author at a book signing, go! You'll find him to be friendly, witty and full of wisdom. I attended one of his classes at this year's Blue Ridge Mountain Writer's Conference, where I hung around afterwards to chat. He was only too happy to let me pick his brain.
This middle-grade novel is the first in a three-part series about a group of friends who are at the wrong place at the right time. They witness a murder in this book, extract a "code of silence" from each other to protect themselves and wind up in a huge mess as a result of the deceit they must create.
I found myself trembling as I read some of the harrowing scenes. Can't wait to read his next two.
Reviewed June 1, 2018
---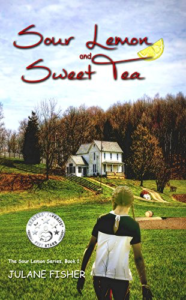 Sour Lemon and Sweet Tea
by: Julane Fisher
This is Fisher's debut novel—an amazing launch to her writing career. It's a terrific clean southern read for middle schoolers about family, friends and overcoming obstacles.
Set in Triple Gap, Georgia during the Carter era, the story centers around a set of female twins. The sour lemon twin embarks on a journey of self-discovery, learning the hard lessons of rejection and forgiveness. The sweet tea twin keeps her straight. Fisher slips in humorous dialogue and realistic settings that remind me of summertime life on my grandparents' farm in south Georgia.
I can't wait for her next book, which I understand is close to completion.
Reviewed April 24, 2018
---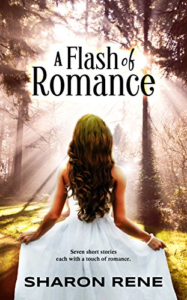 A Flash of Romance
by: Sharon René
This talented author has made her mark on the young adult romance genre. Loved this collection, inspired by the classics. What imagination. I appreciate the clean romance and look forward to reading more of her work.
Reviewed January 11, 2018
---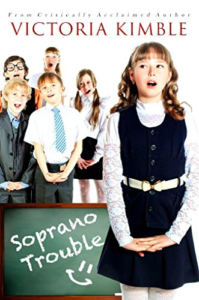 Soprano Trouble
by: Victoria Kimble
Seventh grade is hard enough without adding peer pressure. With misplaced encouragement from her group of choir friends, Summer pranks the new girl. Her actions are soon discovered and now she must work in the church nursery as payback . . . with the new girl, a humbling experience. Over the next few weeks, Summer learns that first appearances are deceiving and that old friends aren't always the best ones.
Soprano Trouble is the first in the three-part Choir Girl series. I promise—they all end on high notes.
I happen to know the author is an expert on girl drama. She has three beautiful daughters. Check out her website.
Reviewed October 29, 2017
---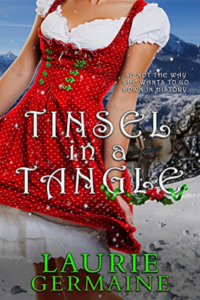 Tinsel in a Tangle
by: Laurie Germaine
Roasted chestnuts! Germaine has lit up the Christmas season with this darling young adult book—an uplifting story about Tinsel, a clumsy elf in search of her talent and, ultimately, acceptance by her peers. Poor Tinsel, tallest of them all, must right her wrong to save Christmas and win the eye of Santa's handsome grandson. I read this straight through, then passed it to my 14-year-old niece, who did the same. Such a fun read!
Hold onto your stockings! Germaine's writing a sequel to this hilarious festive page-turner. Can't wait!
Reviewed October 10, 2017
---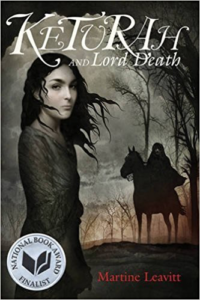 Keturah and Lord Death
by: Martine Leavitt
Kudos to the National Book Award judges. This gothic tale of romance, generosity and friendship certainly deserved to be a finalist. Set in Medieval England, the book contained both the language pertinent to the time period and the poor village setting.
After losing her way in the forest, the beautiful Keturah, famous for her storytelling ability, must weave an entrancing tale to keep Lord Death at bay. We discover Lord Death is real, not a metaphor for the afterlife. Lord Death challenges her to find love. If she does, he'll save her. Keturah's mission is two-fold: she must find love and she must intensify her tale forcing him to extend her deadline.
The author did an excellent job developing the characters. Keturah's relationship with her friends reminded me of several buddies who've stuck with me through gossip and challenging times. I loved how the author used job descriptions as names—Cook, Choirmaster and Tailor—to keep the readers from forgetting them. I easily envisioned the icy Lord Death, the frightening Soor Lily, and the amiable John Temsland.
I did not predict the ending, so was pleasantly surprised. The author and Keturah both wove delightful tales.
Reviewed Feb. 16, 2017